Tai Chi and Qigong Online
Where can I learn tai chi online?
Start your Tai Chi journey
here
.
Hit the pause button, slow down, and find some breathing space.

"Really enjoying the sessions you have created - they are informative and just the right length, with that bit more to think about than in class."
"Love the mirroring teaching method and I also love the text prompts not too many, just right!"
"I really like the text support that flashes up - always exactly when I need it, so I know that somehow you're working with me. Thanks."
Looking for evidence based tai chi and qigong online taught by a professional educator and a healthcare professional?

Join Phil & Helen with their award winning tai chi and qigong for health and wellness classes. Between them they have over 46 years of indepth experience and teaching practice.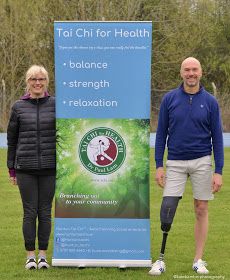 We aim to inspire, teach and empower you to enjoy our evidence based programmes from the comfort of your own home, or anywhere you like.

We have an online portal at our Patreon Page where members gain dedicated access to our exclusive content.

We'll showcase our new evidence based tai chi programme Tai Chi Foundations with a selection of movements from Yang taijiquan based on the most recent research.

Before you know you'll have access to a library of videos and downloads of our favourite qigong/daoyin movements to get you moving anytime.

In addition, we'll feature coffee table conversations on the culture and philosophy of tai chi and the associated exercises of daoyin or qigong and their origins in ancient China.

We'll take you on some rather special guided meditations in the great outdoors as a positive approach to help you slow-down, relax and breathe.

You can also join us for our live streams at our Facebook Group @discovertaichi 11:00am every Tuesday and 7:00pm on a Thursday.
Created with